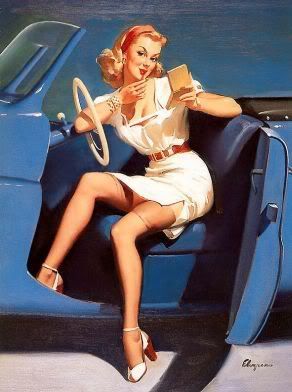 Saturday Afternoon Around 4PM
.
Local Podunk Airport In Michigan. Seriously, they've got like 4 gates. Po-dunk.
American Airlines Chick:
Your flight to O'Hare has been canceled. We have a shuttle van leaving at 5:30PM.
Me:
I won't make my connecting flight to LAX.
AAC:
Let me see what we have flying out tomorrow.
Super Librarian muses, waiting until tomorrow will only make matters worse given the reports of numerous passengers already stranded at O'Hare thanks to Friday night's pea soup fog.
Me:
Hey, what about surrounding airports?
AAC:
There's a United flight leaving for Orange County at 8:05PM.
Me:
I'll take it.
5:30PM, On The Shuttle Van to O'Hare.
Super Librarian kicks herself for not having a book light for Sony Reader. Her Man asked her if she wanted one and she stupidly said no. "I don't read in bed anymore and when I fly, there's a reading light on the plane." Super Librarian did not take into account shuttle vans.
6:45PM, O'Hare Airport.
Hordes of people, but Super Librarian gets checked in. Um, no seat assignment on boarding pass. United Airlines Chick who takes her suitcase tells her to ask the attendant at the gate.
7:00PM, O'Hare Airport Security.
Oh joy. Super Librarian has been pulled out of the line to get searched. She must look like a particularly menacing Super Librarian. Still, even getting patted-down by female TSA officer (settle down boys, she's wasn't all that cute) she makes it through O'Hare security faster than LAX's a week before. Super Librarian says "thank you" and is nice to all the security people because she is sure they've had people screaming in their faces all day.
7:10PM, At The Gate Waiting In Line.
Harried United Gate Dude:
You don't have a seat assignment because American Airlines booked you on an overbooked flight. Take a seat, and I'll call your name.
Super Librarian calls Mom. Mom now officially worried her precious daughter will be sleeping on bench at O'Hare over night. Calls Her Man. Prays to various gods.
7:45PM, At The Gate.
HUGD
: Passenger Super Librarian to the podium please.
Super Librarian does happy dance! We have a seat assignment! Weeeeee!
8:05PM, Boarding The Plane.
Super Librarian continues to do happy dance! Exit row seat! Glorious leg room! Sweet, glorious leg room!
9PM, On The Plane.
Super Librarian freezing ta-tas off because plane is really bloody cold! Puts on winter coat, zips it up, pulls the hood up and digs out her gloves. Can't read, too cold. Super Librarian looks like a jackass, but she doesn't care. She's cold! Freezing! She contemplates starting a fire in the cabin using cheap airline pillows and in flight magazines.
Hypothermia sets in and makes her sleepy. Takes a nap.
10:30PM, Orange County Airport.
Super Librarian calls Mom. Mom can now stop worrying. Super Librarian calls Her Man. Come get me! Gets luggage, Her Man arrives. Takes pity on wilted Super Librarian and hits Taco Bell drive-thru. Couldn't get food at O'Hare because had to wait at gate for seat assignment.
Home sweet home.