Remember
a billion years ago
when I started a wiki? You don't? Of course you don't - because I've been neglecting it for the last several months. So this week I spent some time revamping and retooling my
Upcoming Historical Romances
wiki. For those of you new to the Bat Cave, this is a site where I dump titles of upcoming historical romances. Why historicals? Because they're my first love and if I tried to do all of the romance sub genres I'd quickly go insane. It's nothing flashy, just author, title, ISBN, price and publisher. Title links and book covers will take you to the Amazon page and author links will take you to the author's web site.
One thing I noticed during the revamping was that
whoa doggie
- a lot of reprints coming out in December. And one of them happens to be one of my all-time favorite westerns,
Cherish
by
Catherine Anderson
. The copy in my keeper stash is hardly pristine, so I think I'm going to have to buy a shiny, new copy of the reprint edition (although honesty, could that cover be any more blah?).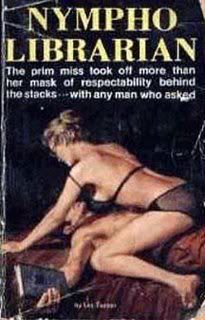 In other news, where the heck have I been that I haven't spent any time over at
Lust Bites
? It's a group author blog featuring many
Black Lace
and
Cheek
authors. I'm sure I've mentioned a time or two that when the Super Librarian decides to be naughty, her books of choice tend to be Black Lace titles. And oh goodie - today the fabulous
Portia Da Costa
has
an excerpt
up of her forthcoming naughty librarian book,
In Too Deep
. But be warned, 'tis very,
very
naughty. Bless her heart. I'm always on the lookout for librarian heroines who don't make my head hurt (for the love of God, no more good girl virgins who want to be "bad"), and dear Gwendolynne just might be what the doctor ordered.
Wait a minute....
Gwendolynne?
Wendy?
Coincidence?
Hmmmm......