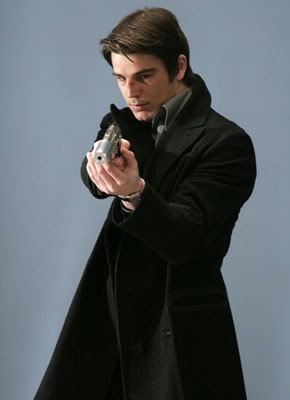 God bless him. I haven't read a story this great on the Internet since I found out that David Duchovny is a
raging sex addict
.
Yeah, a few days in between wacky Hollywood celebrity stories. I'm not sure how I handled the drought.
Anyway, I've always found
Josh Hartnett
intriguing. He walks that fine line between gorgeous stud muffin and skeevy skeeze ball much in the same way as
Nicholas Cage
does (In one movie he's hotter than Hell, in another he looks like a deranged homeless man. I mean, how do they do that?)
Turns out Joshy has been a busy guy. And I do mean
biz-ay
. Yep, our boy was
busted recently
for
gettin' it on
in a library. OK, a hotel library, and not a public one, but still
a library
.
It's what I've been trying to tell people for years on this blog. Libraries are not only educational, but
fun
as well!
Tee Hee
But you know what I really want to know? Where exactly did Josh and his lady love get down to business? I vote for Dewey Decimal 613.9, which is where one can not only find
The Joy Of Sex
, but the
Kama Sutra
as well.
Librarians. We're always here to help. Well....
Within reason.