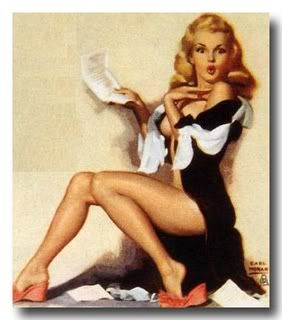 Katie(babs)
has apparently been stalking the RWA web site, and just fired off an e-mail to me (and others) to declare from the mountain top that
"The List Has Been Posted!"
Dear Katie, is talking about the
list of authors
that will be signing at the "Readers For Life" Literacy Signing in San Francisco on July 30. Even if you couldn't pony up the bucks to attend the whole conference, if you're in the area, I do encourage you to check this one event out. It's open to the public, and is honestly
the best time
to be had at the entire conference (says I). Also, the money from every book you purchase goes to various literacy charities. Since 1991, RWA has donated $600,000 to literacy organizations.
That's so colossally awesome - words fail.
Usually there is one author, every year, that sends me into a fit of fangirl squee-ing. Last year it was
Emma Holly
. This year, while there are oodles of authors I will most definitely be stopping by to see, I'm happy to report that booksigning attendees will be spared from any latent fangirl tendencies I have.
I was going to post a list of authors I have plans to stop by and say hello to - but
damn
, it's a long list. I will say that this year's mission will be to have
Thea Devine
sign my copy of
Desired
(y'all have your
J.R. Ward
crack, I have my Thea Devine crack), and to hit
Nora
's line early in the event that she'll be signing copies of
Tribute
. Never mind that I still have
High Noon
to read.
Geez
.