I moved to California four years ago. That entire time, I have been
without
a book case. Not. One. Single. Book. Case.
None. Nada. Zilch-a-rino. Goose egg.
Yes it's true, loyal Bat Cave readers. Super Librarian has been keeping her
entire
book collection (save for my beloved Harlequin Historicals) in Rubber Maid totes. And let me tell you.....
It sucks.
Oh sure, I had things fairly well organized. Historical romances in a separate tote from all my Harlequins. Trade paperbacks in a separate tote, away from mass market. You get the idea. But none of my books were out in the open. They were all hidden away. A joy for The Boyfriend, because my addiction wasn't smacking him in the face every minute of every day - but a bummer for me, because I love the look, feel and smell of books.
Hell, it's my idea of decorating.
The Boyfriend, being Master Gift Giver Of The Universe, decided he wanted to make me supremely happy. His immediate choices were winning the lottery or discovering he was an Italian tycoon. Sadly though, he's Irish and Austrian. And if I've learned anything from Harlequin over the years it's that all tycoons are either Italian or Greek. Bugger.
So, The Boyfriend did the next best thing. He got me an early birthday present! Yep, that there up above is my brand new, glorious book case. I can fit books two-deep on the shelves. All of my hard covers and trade paperbacks are on it. Heck, even my modest erotica collection. It's all there. The man took me shopping on Friday, told me to pick out something I liked, and
voila
!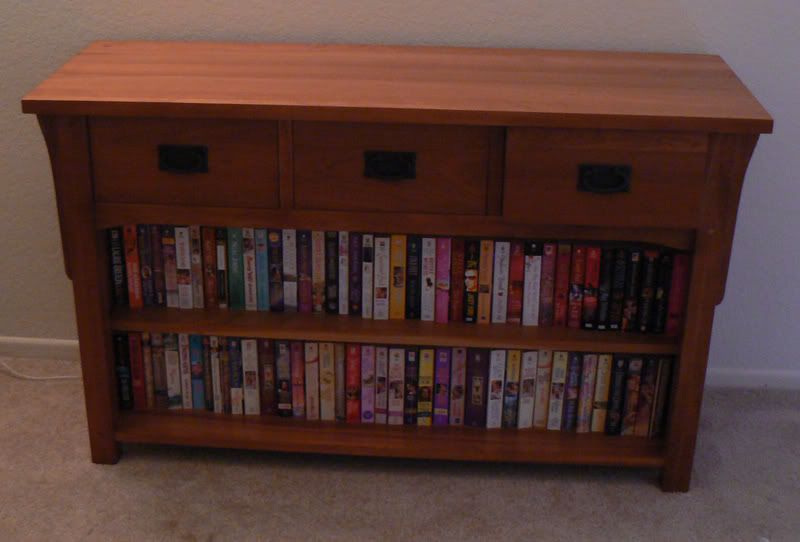 And while we were at the furniture store? We came across this awesomely cool table. Eventually, as soon as we buy one, our bedroom television will be sitting on it. But even better? He said I could put books on the bottom two shelves! Yippeee!
Do you know what this means? The Rubber Maid totes are
empty
. Well,
almost
empty. Damn, I have a crap-load of Harlequins. So they're still in a tote, as is my rather small stash of keepers. But everything else? Out in the open and loving the fresh air baby! Wahoo!