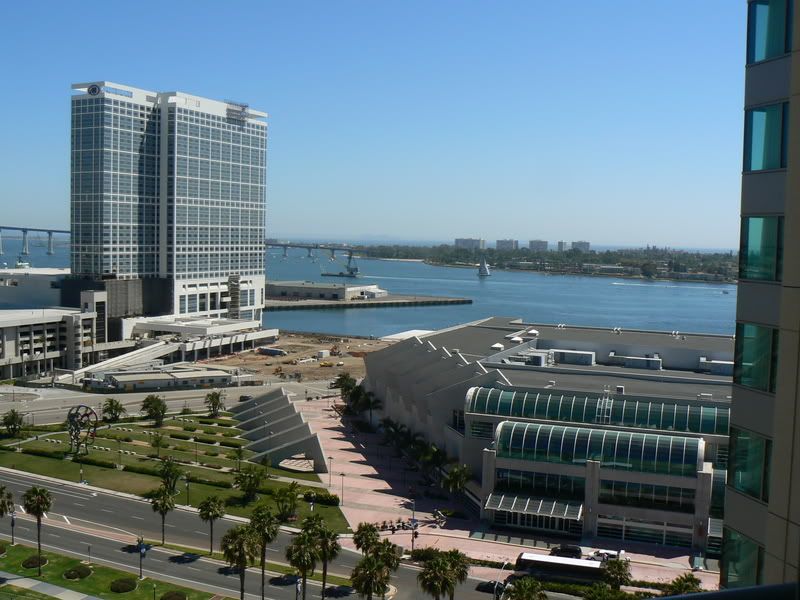 I arrived home yesterday morning from our lovely weekend in San Diego, only to come to the realization that I live in Hell. As in, it's hotter than Hell here in southern California at the moment. It was a balmy 90+ degrees while we were in San Diego, which meant that up where I live? You know, where it's a more desert-like climate? Yeah, hot enough to melt the soles of your shoes. My poor, sad air conditioning yesterday. It tried valiantly. The Boyfriend and I spent yesterday living like moles. All blinds drawn, no lights on - basically we hung out in our own version of the Bat Cave.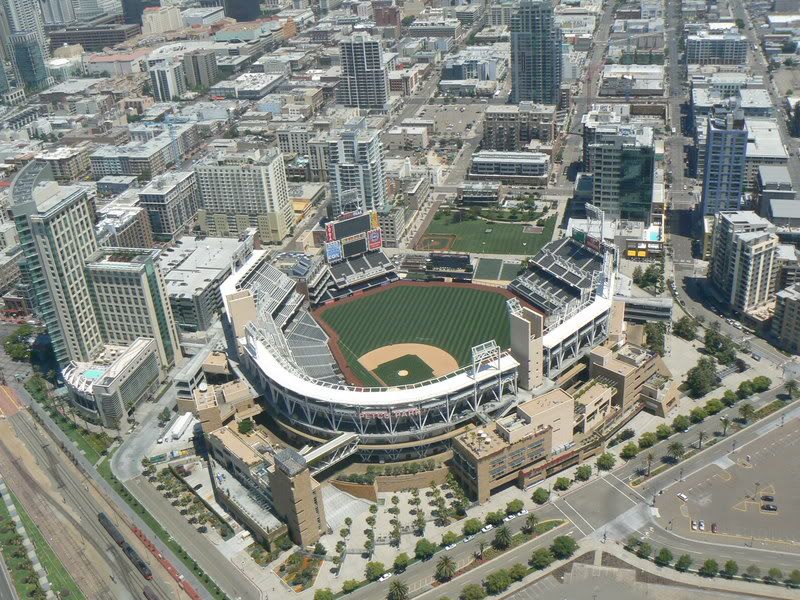 So how was the trip? Fantastic, of course. Our hotel room was great, and that photo above is of the view we had. Not shabby huh? One of the super fun things we did was take a helicopter ride along the coast. I'm going to be honest, this was all The Boyfriend's doing, but it was a lot of fun and a great way to see the city. I snapped a ton of pictures, including this one of
Petco Park
(home of baseball's San Diego Padres). That building on the left? Yep, our hotel. Like how convenient is that?
You know what that meant, right? We ran into the Tigers coaching staff - a couple of times. 7AM Saturday morning, we're on our way to breakfast (yep, we're early risers) and who should be out in front of the hotel, half asleep and carrying two coffees?
Jim Leyland
. The manager of the
Tigers
. Standing right next to some golf clubs and third-base coach
Gene Lamont
. I said...nothing. Because I'm a dork. Oh, and the Tigers got their butts wupped on Friday night. So sleepy Leyland, who wants to make his tee time, hasn't had his coffee yet, and his team lost the night before. Yeah, just not bothering the man.
We ran into him again on Sunday, as we were checking out. Did I say anything to him this time?
Of course not
. Cuz, I'm a wuss. Also, I just knew I'd end up saying something incredibly stupid - and Leyland? The guy scares the crap out of me. Seriously. The Boyfriend chatted with him about golf, and I stood there dumbly, but did notice that his cigarette brand of choice is Marlboro Reds.
The stuff you learn when you simply observe.
We did not see
any
of the players. None. I suspect they were all sequestered in their rooms catching up on their sleep, or else at the ball park working out.
As for the game - we were there Saturday night. Petco Park is very nice. Lots of Tiger fans in attendance, and the Padre fans were really great. Man, they really get into the ball game, and every time the Padres' did something good, the place would erupt. They got very quiet though when
Marcus Thames
(love of my life) crushed (and I do mean
crushed
) a
two-run homerun
in the 7th inning. The Boyfriend and I agreed seeing that was worth the price of admission, cuz dang, he unloaded on that ball.
So it was a great, fun trip. And now it's back to Real Life and hopefully back to some reading. Sure enough, I didn't read a single word over the weekend. Let's see if I can remember how.