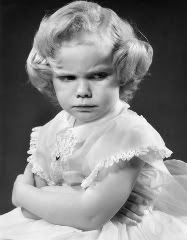 The baseball game
last night
can pretty much be summed up by the e-mail I got from the Older Sis this morning:
I am so sorry. I am just so sorry. I don't know what to say to console you. How those boys could torture you so is just beyond my comprehension. I feel for you. Hang in there.

Both the Angels and the Tigers were determined to not win the game last night. It was 0-0 through the 11th inning. Don't ask me how. I mean,
Carlos Guillen
practically tried to give the game away by impersonating a third baseman
again
(two, count 'em two!, errors thankyouverymuch). Finally in the 12th inning, one of my crappy bullpen pitchers must have decided enough was enough and
walked in
-
yes
walked
in
- the winning run. Angels 1, Wendy's Crappy Tigers 0.
Torture. It was
pure
torture.
In slightly better news, we did have awesome seats down the third base line, just past the netting behind home plate. Since Pudge Rodriguez is a right-handed hitter, that means I got a spectacular view of his incredible butt.
Sigh
, but walking in the winning run?! I mean, you really have to try to be
that
crappy.
That's it. I'm hitting the bookstore today on my lunch break. I'm hoping to find
Killing Bridezilla
by Laura Levine. B&N and Borders have it listed as June 1, but Amazon has the laydown date as today, May 27. That should make me feel better. Maybe. If not, I definitely need to start drinking more.