The Boyfriend and I decided we needed to get out and do something with ourselves today. Since I still had some unspent gift certificates from the holidays, the outlet mall won out.
I might have mentioned it a time or two (or three) on this blog how hopelessly addicted I am to tea. If God came down from heaven one day and said,
"Wendy, if you never drink tea again you'll lose 20 pounds overnight,"
I'd say,
"Thanks anyway God, I rather like being fat."
Seriously, addicted.
So when I spotted this very cool
Twinings
tea cannister today I had to have it. Not only does it look cool, but it came with 100 English Breakfast tea bags. All for only $25!
My
preeeccccioussss
.
While we walking around in
World Market
(AKA Tea Heaven), The Boyfriend said,
"Have you bought any of your rose petal tea yet?"
Oh. My. God! I had totally forgotten!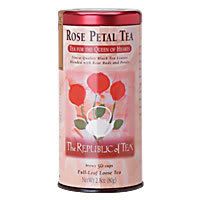 Taking a cue from
Cadbury
,
Republic Of Tea
only makes their rose petal black tea available around Valentine's Day. Last year, I didn't get any, and it almost slipped my mind again this year! So the minute we got home I quickly ordered myself three cannisters online. It is oh so very yummy, but oh so an acquired taste. When I first had it, I wasn't all that wild about it. Oh sure, it was "OK," but "eh." Then I drank more. And more. And more. And fell in love. Now the question is, how long will three cannisters of loose leaf rose petal tea last one girl?
So let's do the math. One cool Twinings cannister with 100 tea bags and three cannisters of rose petal tea, bought all on the same day. Oh, and I picked up a
Cadbury Dairy Milk
bar while I was a it. I'd swear the Gypsies kidnapped me from an English hospital as a baby if I didn't look so much like my parents.