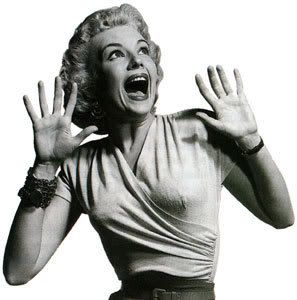 Anybody who has been crazy enough to go tip-toeing through my
Library Thing
account knows that I own an obscene amount of books. What I don't think most people realize is that all of those cataloged books? Every single one of them?
I haven't read yet
. That's right. I have over 900 books I have never,
ever
read.
It's a horrible sickness I tells ya.
So I am declaring 2008
The Year Of The TBR
. That's right. I hope to read as many books as I can out of the TBR, concentrating on the ones I've had lying around for
years
. For the sake of this mission, let's say
more than three
years. Believe me, that gives me a ton to choose from.
It Came From The TBR
will be a year-long, ongoing feature here at the Bat Cave for all of 2008. Stick around, read about my madness, and maybe add to your used bookstore shopping list while you're at it. Because honestly, we're all just a bunch of enablers here in Blog Land. And by all means, feel free to steal my idea for your own blog or reading resolution for 2008. Because I know I'm hardly the only one with this illness.