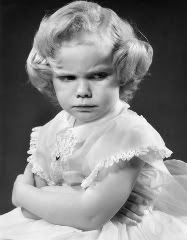 Why is it that whenever I decide to go on a diet the world conspires against me?
After fighting it for two days a full-blown head cold is here. I woke up this morning feeling a bit like week-old chewing gum stuck to the bottom of a shoe.
I have a sinus headache that currently feels like someone is driving a spoon through my frontal lobe and all I want is some
Aleve Cold & Sinus
- the only over-the-counter drug I have found that actually knocks out said headaches.
I go to
Walgreens
before work. Pick up a box of
Kleenex
. Go to the cold medicine aisle only to find those stupid little cards telling me that if I want my Aleve Cold & Sinus I need to ask at the pharmacy and sign my life away. Being only 7:30AM in the morning, the pharmacy is
not
open.
No drugs for Wendy.
If you are a meth addict and happen to be reading my blog - I hope they shrivel up and fall off.
Oh, and the Yankees
clinched
a playoff spot.
I hate everybody.