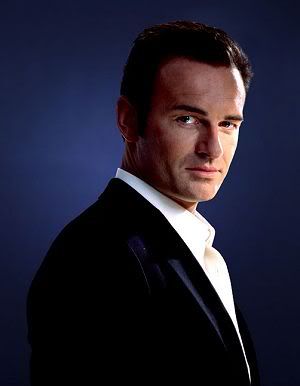 Oh, thank the Lord! My favorite trashy TV show is back on tonight. Yes, that would be
Nip/Tuck
. That means quality time drooling over that hunky
Julian McMahon
. (Don't feel sorry for The Boyfriend. There's plenty of T&A for him too!) Big, long, lusty sigh here. How I love that man. OK, so I don't actually know him - but since when is that a requirement for a crush?
I think one reason I adore Nip/Tuck so much (besides the complete trashiness of course) is that McMahon's character, Dr. Christian Troy, feeds into my
J.R. Ewing
fixation. He's morally bankrupt. He has the ethics of an alley cat. He's the poster boy for why women should stay far away from men
that
good-looking. However, he has his moments. Just when you think he's totally unredeemable he shows that deep down, there is a fraction of his soul that is "good." He is capable of love. He is capable of being "nice." He just chooses to be dirt bag most of the time. All that, and easy on the eyes. What more could a girl ask for? Oh yeah,
Larry Hagman
is guest starring this season! See, it all comes full circle.