Is there a better way to ring in a Wednesday than with happy book news?
Oh thank heavens!
Cheryl Reavis
is still writing! Her last book was published in January 2003. I was beginning to fret that another American historical author had jumped ship/retired. Reavis writes fantastic characters, which is the main reason why I like her books so much. She reminds me of Maggie Osborne in that respect - you really believe in these fictional people by the end of the story. Sure it's only a novella - but maybe we'll see a novel from Reavis soon? She's written some fantastic books for
Harlequin
Historicals and Silhouette Special Edition over the years.
Spring Brides
is slated for June 2005.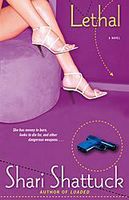 Shari Shattuck
is an actress - at one time playing Ashley Abbot on
The Young And The Restless
. I loved her actually - this was back in the day when I still watched soaps (working five days a week sort of killed that addiction).
Her first book,
Loaded
, came out in August 2003 and I really enjoyed it. My wait is finally over, book 2 in the Cally Wilde series is set for June 2005 -
Lethal
.
My only concern here, is that while
Loaded
was published as a Pocket paperback -
Lethal
will be published by
Downtown Press
. The best things about Loaded were that it had a gritty noir feel to it, and Cally had some rough edges. So I hope this move to a different line (both Pocket and Downtown are
Simon And Schuster
lines) won't mean that Cally will loose that edge. If she starts grousing about losing 15 pounds, drinking too many cosmopolitans, and getting the latest
Jimmy Choos
I'll be really, really unhappy.